If you're interested in new ways to enhance your home, vintage decorating is the perfect way to add charm and detail to your space. You don't need to have spent a lifetime collecting antiques to make it happen, either. With some basic ideas, you can transform any room in your home with vintage furniture and accessories.
Here are some vintage style ideas to help you get inspired:
Choose a theme
If you're not sure where to begin with vintage decor, try choosing a theme. Focusing your decor around a specific theme or idea is a fun way to keep your design cohesive. For example, you might select music as your theme and display old records, concert posters or musical instruments in a gallery wall.
Other theme ideas for adding style with vintage decor include movies, travel, fashion or food and drink. And remember, you can never go wrong with the perfect coffee table book to tie your theme together.
Spice up your storage & display
Another simple way to bring vintage decor into your home design is by using funky antique solutions for necessary storage and display space. For instance, try using a traditional armoire in your living room as a media center.
A credenza makes a charming vintage addition to an entryway or bedroom for displaying books, curios and more. Other stylish options for vintage decor include mail organizers, apothecary cabinets and vintage suitcases. An antique luggage vanity table can be the perfect starting point for a unique, vintage bedroom design.
Leverage your lighting
Replace your existing light fixtures with antique designs to instantly add vintage flair while lighting the space. Try hanging an ornate chandelier in your entryway or dining room. Wall sconces in the style of candelabras or Victorian gas lamps can turn any interior space into an enchanting vintage hideaway.
For more vintage charm, try accessorizing with mirrors in vintage picture frames. Mirrors will reflect light around a space to give it a nostalgic glow.
Get creative with colors & textures
It's easy to feel overwhelmed by details when choosing the vintage pieces to display at home. To help avoid a cluttered feel, try keeping your decor in the same color palette. This gives you plenty of opportunities to create a fun, eclectic vibe with plenty of textures while still maintaining balance in your home.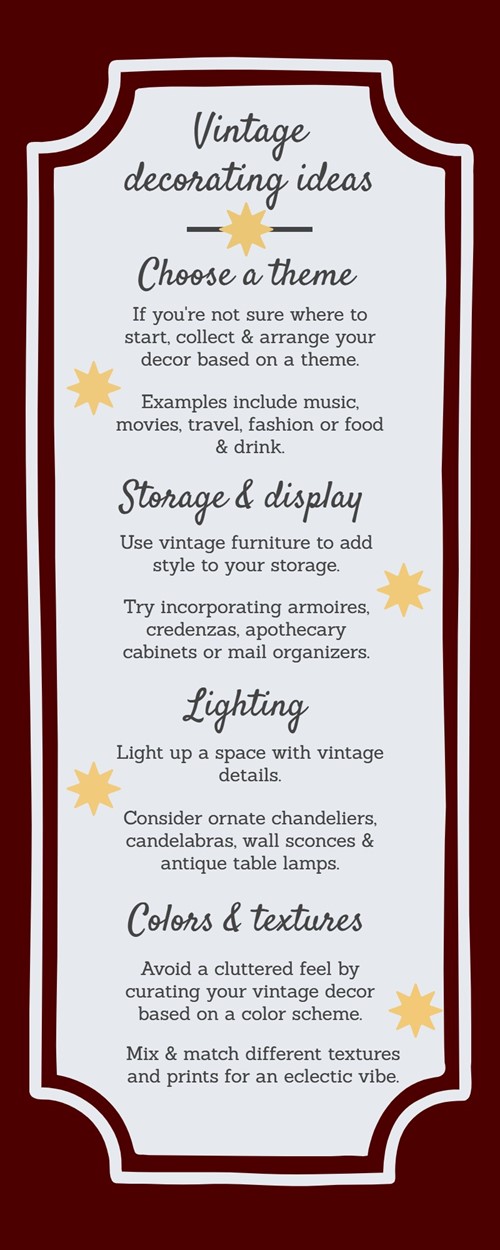 These are only a few ways to bring vintage decor into your home. While it can be tricky to redecorate your space with vintage style all at once, try visiting thrift stores for vintage furniture and other decor ideas. The more you explore, the more inspiration you'll have to make vintage decor a perfect addition to your personal interior design.