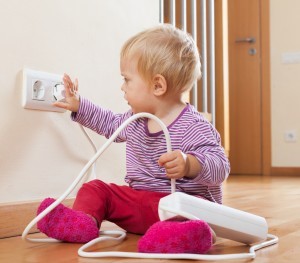 Kids, since they are naturally curious, require special measures to ensure their safety. Whether this is your first child, or your fifth, everyone can use a refresher course about kid's safety in the home. By being vigilant and following a few simple rules, you can help ensure that your kids stay safe in their own home.
Cover it Up
Those seemingly benign electrical outlets might not seem like they are out of the ordinary to you, but to your child, they might as well be magical. They seem to beg to have something, anything, poked into them. In order to protect you child from being shocked, or even electrocuted, invest in a couple packages of outlet covers. It is best to keep a few around since they tend to get misplaced when they are removed. Just be sure to keep loose outlet covers out of the reach of small children who still put things in their mouths. They can be a choking hazard.
Gate it Up
Baby gates, as they are commonly known, are also called safety gates. Unlike the ones popular in the past, these safety accessories no longer feature triangular shaped openings. Instead, many of them are made of a mesh pattern covering that eliminates the ability of the child to put their head through the opening. While safety gates are often used to block the ability of the child to go up or down a set of stairs, they can be used for much more. You can keep your child in a particular room while you are busy with chores. Conversely, you can also keep your child from accessing a particular room by placing a safety gate at the opening. These days, safety gates come in a variety of different widths, with many of them able to accommodate a range of openings. In addition, there are also many options when it comes to the latches that open the gate. This allows people with limited mobility to choose the gates that enable them to easily open them.
Safety Latches
Latches will keep your child out of the drawers and cabinets where you store your pots and pans, as well as any hazardous materials.  They help to keep your child safe while still allowing accessibility to the tools you need to complete your daily chores. Today, you can find many different tools and resources to keep your kids safe in your home. After all, you want your home to be a source of comfort for them.